Web studio at advertising agency PUSH-K Solutions is located in Kyiv and specializes in the websites development and content management worldwide.
Our philosophy Every work – Artwork and this concerns visual part as well as marketing one where effective solutions for client`s businesses are priority.
The web studio team includes experienced project managers, programmers, web designers, copywriters and testers. Additionally, professional marketers and Internet advertising experts are involved in websites development process.
More details about websites development and our portfolio you can check here:
WEB.PUSH-K.UA
---
Landing Page Development
Web Studio PUSH-K Solutions professionally develops Landing Pages. These are single-page websites that differ from corporate and e-commerce websites with increased lead generation (conversion of a visitor into order, registration), low cost and short production time, because of less complicated development process.
The main rule for Landing Page websites – the more specific is proposal, the better result you get. It`s ideal solution for clients with any specific service or small range (not hundreds) of products of the same category. You should take in account this rule when choosing Landing Page website for your business goals. It is easy to understand sense of single-page websites by going to LANDING PAGE of our web studio, created to sell Landing Pages development service – it is active and successful example of such websites.
Landing Page development takes from 2 weeks and processes according to the scheme:
1. BRIEF client fills a simple brief and we ask some clarifying questions on its basis.

2. PROTOTYPE We analyze market, develop structure, write marketing text, determine conversion scheme – client gets prototype of future Landing Page. Prepayment 10%.

3. DESIGN After client agrees prototype, our talented web designers join the website development. Client gets future site design based on the prototype. Prepayment 40%.

4. PROGRAMMING When client approves design, the programmer of web studio starts to develop project. Ready website we place out for testing at agency server and after approval we move website to client's server and final domain.

5. ADDITIONAL BENEFITS First, the PUSH-K Solutions search advertising specialist will develop and customize the contextual advertising (Google AdWords) for your new Landing Page from your account. You will be able to manage campaign by changing the settings and pay Google directly. Second, we can connect CMS to Landing Page and you will get opportunity to make changes in texts, images and prices.
If Landing Page website order is the optimal solution for your business, then the team of web studio PUSH-K Solutions is at your disposal.
References to additional materials:
LANDING PAGE FOR LANDING PAGE SALES (with examples of our works)
BRIEF
Quick contact: site@push-k.ua or +38 044 222 86 94

---
Corporate Website Development
Web studio PUSH-K Solutions professionally provides websites development of any complexity. We have been creating websites since 2014. In advertising and marketing industry for more than ten years – our experience in solving business problems and practical web development allows us to develop high-performance corporate websites.
We develop corporate websites in accordance to the technical brief, which is prepared by client usually or by web studio sometimes. Our project manager researches client`s technical brief and prognoses human resources for future project to make cost estimation of website development. If there is not enough information in client`s technical brief we will help to finish this document – it is extremely important for both sides to specify all the tasks, duties and costs before the work starts. When developing corporate websites, we consider:
1. Client`s goal and website mission
2. Target audience of the website
3. Market and active competitors
4. Information to be placed and its structure
5. Commercial offers, products, services and presentation methods
6. Internal SEO optimization
7. Cross-browser compatibility, adaptability of the future website
8. User functionality
9. Functional of CMS and future content management
10. Corporate style of the company and its use in web design
11. Expected flow of visitors and server requirements
12. Internet security
Specialists of Web studio track innovations, attend profile conferences, develop their know-how and perfectly orient in websites development. We work with various content management systems (CMS) and if you prefer exact one, we will use it for future website. If there is no any preferable CMS we will advise most suitable one for your website (Laravel, WordPress, Drupal, etc). As for front-end programming and visual solutions, we also track trends, integrate new solutions and actually know how to reach the best website performance.
If your company plans to develop a corporate website or upgrade an existing one, web studio PUSH-K Solutions is at your service. The corporate websites developed by the studio have a guarantee, CMS consulting support and technical support. Practice shows that the web studio support and relationship becomes wider then Agreement, so we follow "The client should do business – the contractor should do web".
More details about professional websites development and our portfolio you can check here: WEB.PUSH-K.UA
To start just fill this brief: CORPORATE WEBSITE BRIEF
Quick contact: site@push-k.ua or +38 044 222 86 94
---
E-Commerce Website Development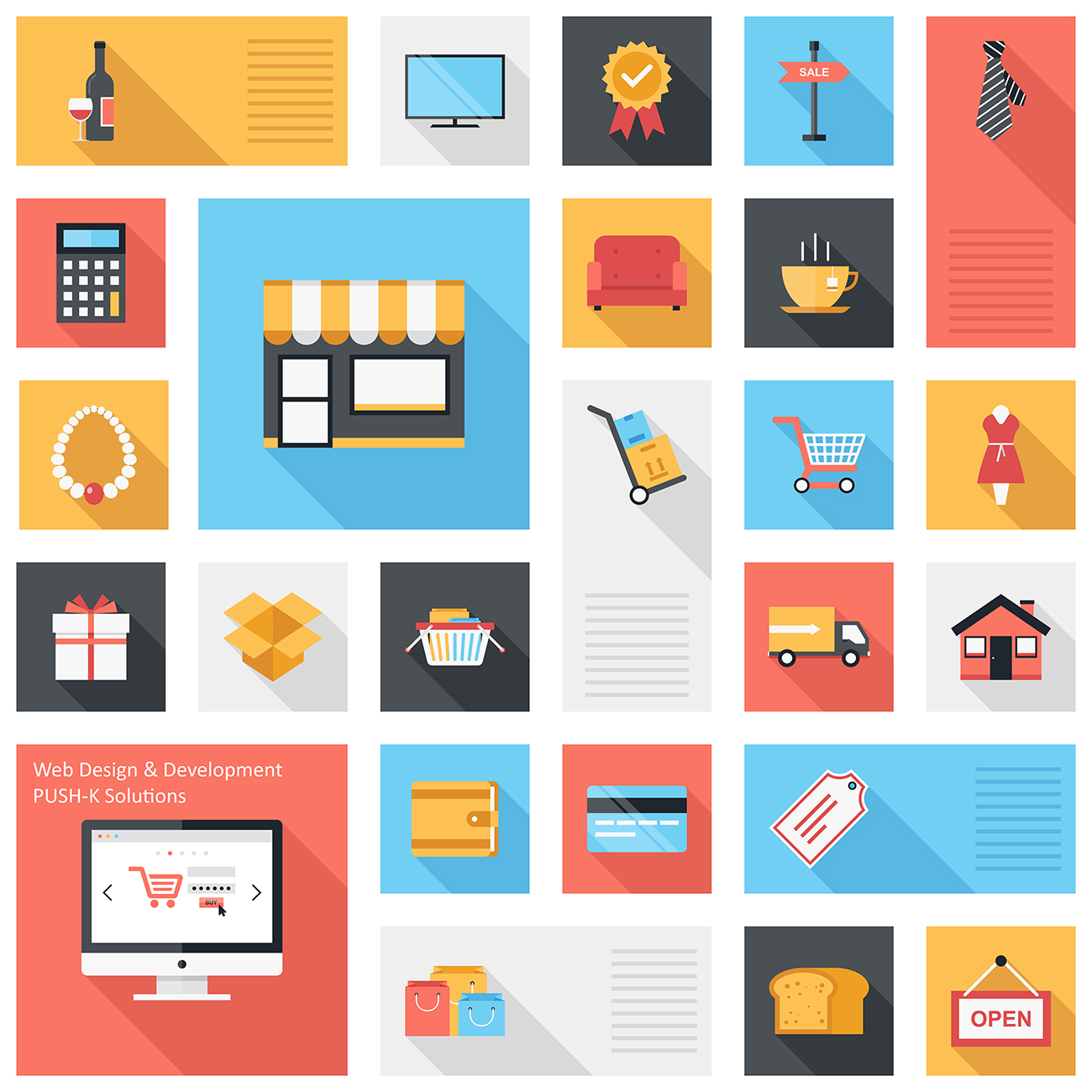 Online shopping and digital economy are the usual environment for all of us. There is no any product that cannot be bought via Internet. Web Studio PUSH-K Solutions provides e-commerce website development worldwide. Our approach – technical excellence, unique design, great conversion, convenient content management and integration with e-commerce products/services.
To develop e-commerce website we create project team from web studio specialists – your personal project manager, web marketer and analyst, copywriter, web designer, programmer. The project team is enforced by SEO specialist, who integrates into the project the foundation for future organic traffic at the initial stages of development.
Web studio work with various CMS (content management systems). If you are intrested in exact CMS we will use it for your shop, if you have no preferances we will advise you one that mostly fit your future Online shopping website (expl. Magento, OpenCart or other).  CMS should provide fast page loading, reporting, database maintenance and have a wide range of modules for effective product demonstration, marketing campaigns (discounts, promotions, loyalty programs) and internal SEO optimization. We also integrate various third-party services into e-commerce websites: delivery services, accounting and warehousing software, payment systems, Google advertising services, etc.
In addition to developing new resources, the web studio provides services for modernization, restyling and support of existing e-commerce websites. Additional benefit for our clients is professional services in field of INTERNET ADVERTISING. Web Studio PUSH-K Solutions is open for cooperation. Let's start!

More details about  e-commerce websites development and our portfolio you can check here: WEB.PUSH-K.UA

---
Website Content management
Websites Content Management is popular service of web studio PUSH-K Solutions associated with the websites development. Our team includes experienced content managers who works with various content management systems (CMS):
1. BASIC CONTENT OF NEW WEBSITE
At the stage of technical brief preparation, we discuss with client what content web studio should post to the website as part of purchased development and what content will be downloaded by the client independently. Usually, when creating Landing Page websites, we fill them with 100% of content. As for basic content of corporate and e-commerce websites we develop it to a sufficient for publication level and till all page type examples filled with information will exist (it makes staff adaptation for work with new website faster). If your website is ready, but basic content work is not done, we can help.

2. NEWS, BLOGS, ARTICLES
The agency professionally provides selection and creation of text, graphic and video content –  experienced copywriters from agency's team are skilled in marketing, advertising, PR and SMM. Depending on your goals, market and audience, we develop a content strategy, according to which the site is regularly updated – you will have something great for reposting to social networks and search engines will rate your website much better.

3. TEXT REWRITE, CONTENT TRANSLATION
Search engines check the uniqueness of texts at websites when forming the ratings of search results (not the only but important parameter). The texts should be regularly refreshed – the descriptions of company, services and other usually static website pages should not turn into monuments standing for years. If you have text description of products from manufacturer, then probably this text has already been posted at dozens of websites – these descriptions should be also rewritten (same sense, other words) to increase the search traffic. When the content is in another language, we can provide translation and editorial proofreading.

4. SEO TEXT
Developing websites and pasting basic content, our web studio already works according to the standards of internal website SEO optimization (it is included in the development). If for some reason the texts of your website are not adapted for search engines, then we will help to correct this situation – we will develop a semantic core, we will adapt the texts, content and meta data. You can read at the SEO-STUDIO section of this website what else we provide for websites search engine optimization.

5. UNIQUE CONTENT (PHOTO, VIDEO, TEXT)
Advertising agency PUSH-K Solutions professionally provides services in text, graphics and video content creation for marketing and advertising – this skills and company potential we regularly use in website content management. Unique content is required to solve specific goals – product presentations, promotion launches, management interviews, infographic etc. We have experienced graphic designers, copywriters and production specialists in the team. We prepare illustrations, provide photo shoot and create 3D for online shopping websites products to increase lead level. PUSH-K Solutions capabilities in DESIGN and VIDEO PRODUCTION are detailed in the relevant sections.

6. E-COMMERCE WEBSITES CONTENT MANAGEMENT
It is a scrupulous and routine work to add, update descriptions, images and prices of products at e-commerce websites in fact that we are talking about hundreds of objects. We do such projects – web studio works with databases, text, prices, photos. Such content management always leads to reasonable marketing, website development and technical recommendations from web studio for client to upgrade and make e-commerce website better.
If you need a good partner for website content management, the team of web studio PUSH-K Solutions is ready to provide you with professional support.
---
Portfolio:

Web sites creation